How could you...
People care, people get hurt. Are we—humans—allowed to want something in return?  How could you do something selflessly?
I missed this...
While I was out, where were you, darling? I met you by the lane, a few years ago. Didn't know what to do with you, since you came so suddenly, I couldn't prepare even for a slice of sandwich or a rug to cover the grasses. We separate ways, don't even meet each other, I don't look after or for you, although I know something's crying inside me, wanting to see you,...
Double checking doesn't really hurt.
When things go wrong, check in before you check out. You don't know how much stuffs left unfinished or forgotten inside than things you have brought outside along with your baggage.
BigBadBey: Seminar, Nilai Vs. Minat dan….. Panda →
bigbadbey: why seminar? karena kemarin gue dateng ke seminar ARE YOU CREATIVE ENOUGH? di Binus. pembicaranya Marlin Sugama dan Mice. Marlin Sugama adalah owner dan co-creator Main Studio. semetara Mice adalah komikus kompas yang (dulu) kita kenal sebagai Benny & Mice dan sekarang bang Mice udah solo karir.
"Have you ever been in love? Horrible isn't it? It makes you so vulnerable...."
– Neil Gaiman
2 tags
1 tag
"To me, arrogance seems to come from insecurity with the self and confidence..."
– andrewh817 on Youtube comments
Moustaches Make a Difference: Che Guevara, Gandhi,... →
imjustcreative: Source mosmakeadifference.com
REMINDER from CNN: NASA reports that by the next 10 months, earth gets hotter by 4 degrees from now. Himalayan glaciers are melting @ rapid rate. Our climate is changing drastically & it's getting worse. We must help fight Global Warming by doing the ff steps: 1. Plant more trees, 2. Don't waste water, 3. Use cloth(spunbond) bag & don't burn plastic. Please copy &...
Random
recently I joined a 4-days-training about management and leadership in my campus. I thought that it'd be boring but it turned out very good! I got so many lessons about organizations since I haven't joined in any; your school years organizers are defined by who emerges the most and have good scores. Well it isn't far from that in college, it's just you have more...
"When I was a kid, I didn't have a laptop, iPod, iPad, Blackberry, PS3,..."
– Passed by my lecturer's
"We sing because we can't speak anymore. Dance is an extension of that. We..."
– Kristin Chenoweth (in acknowledgement to Melanie and Marko's brilliant lyrical hip hop routine) 
Put your mouse over it.
toxicblood: it's the same as http://soytuaire.labuat.com (the more awesome one!) I wish I could make one someday :)
1 tag
Dies, eventually.
People said that first love never dies. I do believe what they mean is the very first one guy/girl you love and they love you back. But eventually, my first love 'died', and I never thought of going back. :) He's found someone whom he can be comfortable with, and I'm hoping I could find one too.  Anyway, it's so funny to have friends saying happy birthday to each...
Ke Depannya
Setiap orang pasti pernah memikirkan, sebenarnya kita nanti bakalan bekerja jadi apa? Buat yang sudah tahu pasti mau jadi apa, selamat… Buat yang masih berbayang-bayang tertutup awan, Anda tidak sendirian. Passion saya bisa dikatakan terlalu banyak. Rasanya curiosity saya selalu berlebihan, saya terlalu menyukai banyak hal yang menyalakan api semangat di kedua mata. Batang koreknya tidak...
A Tennis, umm, Racket Player
It's so fast… My eyes couldn't follow it, seems so easy to get it on the net but no it's not! I'm chasing it, swinging my racket as fast as I can, dig with the urge as big as a volleyball player or basketball player when a ball's going to drop on the line. The sound of success really was such a joyous moment. The hard works's been paid off…the...
1 tag
Rindu
Saya terlalu sering merindukan sesuatu. Selalu ada tulisan orang-orang tertentu yang bikin kangen. Entah karena begitu menghibur, inspiratif, bikin penasaran, memotivasi, memprovokasi, atau apapun itu alasannya. Selalu ada karakter suara yang saya rindukan. Entah dari tata cara berbicaranya, logat, maupun jenis suara yang ketika dinyanyikan bikin menjerit penuh kekaguman, atau bikin ikutan...
1 tag
you may be bored of this, but...
Love does make everybody who's in it do something out of ordinary, doing things they haven't done, saying things you wouldn't expect those come from them, being able to smile 'till it annoys people around you, and so many things you couldn't say one by one.  Once you're in it you wouldn't want to get out of it
1 tag
"Protect her, love her, kiss her, hug her, hold her, smile with her, laugh with..."
Don't you think it's weird?
…to have a guy liked almost all photos of a girl, even though she have a boyfriend. Maybe it's OK for some, but for me it's creepy. Press the like button on your mind, that'd be nice and no once can found. Sheesh.
"As you grow, you learn more. If you stayed as ignorant as you were at..."
– Mitch Albom (via kari-shma)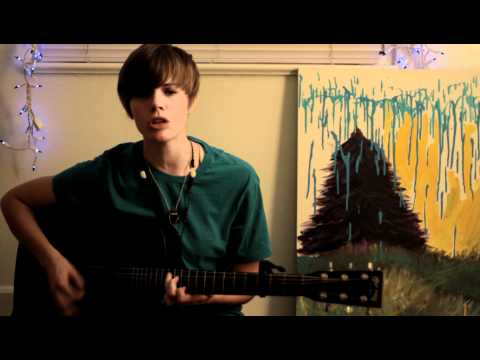 "We were given: Two hands to hold. Two legs to walk. Two eyes to see. Two ears to..."
– Someone on YouTube
"A 15 year old girl holds her 1 year old son; people call her a slut. But no one..."
"Content precedes design. Design in the absence of content is not design, it's..."
– — Jeffrey Zeldman (on behalf of Pak Firman, my nirmana datar lecturer, pretty much the same as what he said to me)
Emakku mendengarkan mimpi anaknya
Aye: Mak, Yenny pengen deh jadi orang-orang yang kerja sosial... Turun ke jalan, ngajar orang-orang. Setidaknya bahasa Inggris, karena kayanya itu doang yang Yenny bisa. (sigh)
Emak: Boleh aja... Kamunya ada waktu gak?
Aye: Entar deh ya, tunggu selesai kuliah dulu.
Emak: Nanti kalo udah kerja gak sempat...
Aye: Emak ngebolehin nih?
Emak: Boleh aja kenapa ngga?
Beberapa tahun yang lalu...
Aye: Mak, pengen kuliah perhutanan ato pertanian deh, biar jadi orang yang ngebenerin pasar. Masa beras ngimpor terus bikin malu, zzz. Boleh?
Emak: Boleh.
Aye: ....tapi nanti duitnya mungkin ga gede lho ma? Secara kan...
Emak: Ya, kalo kamu pengen?
Aye: *terharu*
Pas kecil...
Aye: Mak, Yenny pengen jadi pianis! Pengen jadi penulis, petenis, guru bahasa Inggris, pelukis, semua yang ada is-isnya deh! (yang terakhir tidak ada dalam pembicaraan)
Emak: Boleh, boleh.
Aye: Yeeey! Biar Yenny banyak ngehasilin uang ma.
Emak: Bagus, bagus. Belajar yang benar ya.
Aye: Iya dong!
I still have those dreams until now, although not all of them... : ')
Thanks mom. You're the coolest ever, I'm doing my best!!!
It's funny.
 when you're watching the latest episode of your favorite TV series, and your fave character mention "coaster" then you're back in real life. Thanks, Barney Stinson!
They're coming to town... and I can't watch...
  Sondre Lerche, the singer I've loved since 2007 (since I listen to his song, "Say it All" on the radio and his Two Way Monologue, right after his concert in Indonesia!!! missed it) listened to most of his songs, sing it almost everyday, memorized those lyrics, and he's coming to perform in JavaJazzFestival 2011 or JJF in Jakarta.  Corrine Bailey Rae, loved her since I...